Most of the cam girls (and guys) that we talk to are also on OnlyFans and for some this is their main recurring income, it allows them not only to earn but to promote their cam feeds by sending users to their cam site and their social. It is a great way to grow and we would have advised most people to set up an OnlyFans account in the past but we want to offer a better way.
The Reason to ditch OnlyFans
If you're just starting on OnlyFans then this point might be moot, but we're going to show you how to setup your own website where you can charge monthly subscriptions and a paywall easily to avoid giving away 20% of your earnings when you don't need to.
The question you need to ask yourself is that if you're earnings are more than $50 a month, because 20% of that would be $10, which is what this new setup will cost a month to run. If you're earning more than $50 per month from OnlyFans then this can only increase your earnings and give you other ways to make money.
The idea
It is a simple one, setup your own website and send traffic directly to your website instead of OnlyFans on all of your networks. You can also give anyone who has already paid you this month for OnlyFans a discount code for the first month so that they aren't losing money as a show of good faith.
Domain & Hosting
When it comes to getting a domain name, yourname.com, that will cost you between $8.88 and $20 per year and can be easily bought at either NameCheap or with ViceTemple. The later allows for adult domain names if you prefer such as .xxx or .sexy.
The difficulty when it comes to running a site where you sell adult content is the hosting, normal hosts such as GoDaddy or BlueHost, strictly prohibit it. Enter ViceTemple, they provide hosting for the Adult industries exclusively and will allow you to scale accordingly. If you're just getting started, I advise their Stallion plan which will cost $10 a month. If you've already gotten a huge following, I would advise getting the Princess of Sin $30 VPS plan.
Creating the Website
Once you've got your domain and hosting, head to the new CPanel of ViceTemple and install WordPress which will happen automatically using their one click install system. If you have any issues installing or connecting the domain name, just ask their tech support who will guide you along or in cases, do it for you.
Once you've installed the website, pick a template (in Appearance > Themes), I suggest selecting Sinatra as it's easy to customize and build on. You can add a logo, heading over to Canva.com and creating a free one there using their easy design tool. Play around with the site until it looks as you want and if you get stuck, head over to YouTube to find a ton of helpful videos. If it's all too much, check out FixMyWordpress who can do everything for you for a small monthly fee.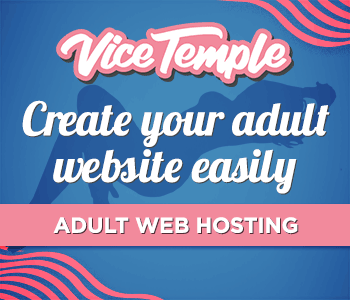 Accepting Payment & Subscriptions
The next thing that you will need to do on your new website, is head to plugins and install two new plugins, WooCommerce and WooCommerce Subscriptions, these will allow you to take payments and setup users on subscriptions. Then you can setup your content on different pages and follow this guide to setting this content to sit behind a paywall for members only.
Increase Income & Other Benefits to Ditching OnlyFans
Now that you've got the system in place and traffic coming without paying OnlyFans a crazy commission, now you can focus on making even more money. Given you have full control over your new website, you can implement advertising but I would suggest not using Google Ads or anything of that nature as they will ban adult content sites eventually. Instead head over to ShareASale and pick specific products which you can promote easily and earn a commission on each sale.
Finally, install the Contact Forms and Contact Form Database plugins, so that you can start capturing visitor emails and do follow up marketing. The ties into another benefit, showing up on Google Search more easily. If you're keen to get to No. 1 on Google and become a superstar then definitely check out SemRush which will guide you there and also show you everything your competition is doing.
Let us know your questions in the comments.