Today we're going to talk to you about how you can earn even more as most of the girls that we've spoken to on these cam platforms tend to promote themselves using Only Fans. However did you know that you can create your own version of Only Fans, which importantly means that you no longer need to pay the commission. The other benefit is that you can also invite other models to use your platform and charge them a commission!
This involves using three separate products, one is a one time pay only script that creates your site, xFans, and the second is hosting where you can deploy this script and finally buy a domain name.
Another Idea: One of the main ways to earn in the adult industry is to start your adult webcam site similar to LiveJasmin or Chaturbate and we've shown how you can simply create one of these using their systems and gain a 20-25% commission for sending traffic there way.
When you start your own "Only Fans" site, you can earn more!
Unlike using the affiliates in our last article this, starting your own xFans site follows the same line of work as starting your own Tube Site but using a different script.
Unlike going down the affiliate route of starting your own cam site, you get some different income streams which can, over time, be much more lucrative. This includes the fact that you can sign up members directly to your new Only Fans website putting you fully in charge of how much you earn.
Also you can use adverts from various sources, such as Share A Sale, to sell products and garner a commission through the traffic that lands on your new website.
Choosing a Name before you start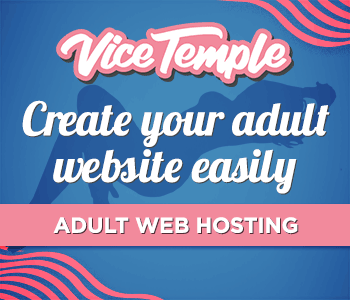 Once you've decided to get started it is important to then choose a domain name which will work with either your audience or for the cam industry. The best place to grab a cheap domain is over at NameCheap which, with our link, will only cost you $8.88 per year.
Hosting your new Only Fans site
The next thing that you will need for your new xFans Site is a place to store it online where the public can access it. Luckily there is a hosting company that specializes in this type of adult content.
Vicetemple is the global leader in adult content hosting. This is the service we recommend everyone in this industry to use as they are catered for every level of support you need and have years of experience.
I would suggest when starting with Vicetemple is to go with their simple $10 Stallion Plan. When you get to 80% of the server usage you can then ask them to scale up. If you know the level of traffic you can send is higher then start with something that better suits your needs like a VPS.
Setting up the Fan Site itself
What used to be the most difficult part, creating the webcam site itself, has now been made easy thanks to a new product, xFans. The downside to this way is the cost $1999 which does include someone who will help you install the product and guide you through the inner workings.
Buy Now! If you're ready to get started right away.
While this may sound like a lot of money to some, I can guarantee the cost of development would be much more expensive. They will also help you with monetization. It is to be thought of as an investment.
Getting the webcam broadcasters
You can obviously go down the route of getting exclusive broadcasters and making deals with studios and this should be your long-term strategy. If you have a network already then this is the most profitable route.
Have any more questions? Let us know in the comments!